This Centuries-old Adoration Practice Is A Beautiful Ancestral Ode
You deserve your flowers while you can smell them; we all do. But when our people become ancestors, we can practice this beautiful custom to honor them.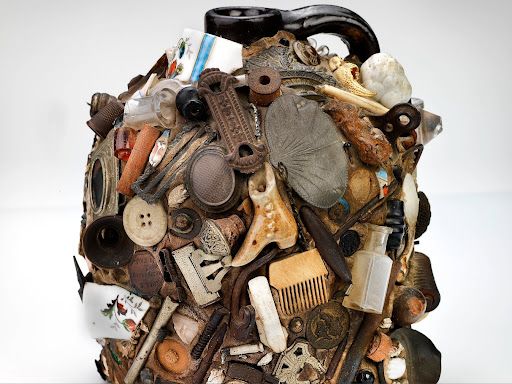 Grave decorations is a burial tradition that has existed for centuries in our community. It's a diasporic tradition once upheld by many with deeply spiritual ties to our people on the other side.
In the 20th-century South, it was common to see grave plots decorated with broken dishes, glassware, memory jugs, bedframes, and even shells because of their relation to water and the West African belief that spirits pass through water on their way to the afterlife.
The grave arts help ease the deceased person's soul when transitioning, prevent unwanted spirits from wandering the living world, and give their now-traveling soul a resting place.
This burial custom echoes early Congo traditions and exemplifies what Zora Neale Hurston considered our people's "will to adorn." Hurston's work studying the expressions of our culture talked about Black language and the beauty in our ability to embellish words, but this will show up in how we speak, dress, and mourn.
We've long believed in protecting and honoring ancestral spirits. It is also a self-care healing act when we lovingly make alters or wear R.I.P. tees and show gratitude to those who came before us.
Our people deserve their flowers in life and death. We honor our spirits and the ancestral ones of those we love by adorning our existence even amidst loss and grief.
We have a quick favor to ask...
We hope you're enjoying PushBlack Spirit! Spreading the truth about Black spiritual practices and history is just as important to you as it is to us.
And as a small non-profit, we need your support to keep spreading these important stories.
With as little as $5 a month, you will support our tech and writing costs, so we can reach even more people like you. It only takes a minue, so will you please donate now?