Our Bodies Deserve The Care Of Dying With Black-Owned Funeral Homes
When we transition to the ancestral side, our homegoing services must be done with intense care. As Black-owned funeral homes continue disappearing, our dying in peace is at risk.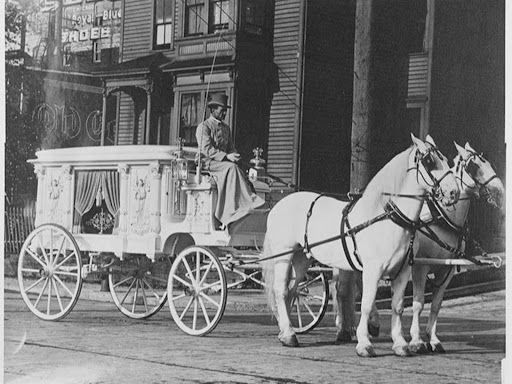 We deserve to die in peace and dignity, and for decades, Black-owned funeral homes have helped us do just that. Now, these precious spaces are falling away.
Black funeral homes were born out of a need to bury our people with the utmost respect, contradicting how many of us are treated in life and the myriad of anti-Black reasons that contribute to our deaths.  
Funeral directors intentionally preserved our rich homegoing traditions providing mourning families with refuge and cultural comfort during grieving times.
They've been disappearing rapidly over the last seventy years, however. In 1953, there were 3,000 Black funeral homes across the U.S., and by 2020, that number dwindled to 1,200.
But we need them to survive.
Our homegoings are celebrations of life steeped in rituals and history. Enslaved folks who buried their loved ones away from watchful white eyes often used the space to plot their freedom. It's rumored that Nat Turner organized his revolt during a funeral service.
The Black funeral home has always been a part of our dying and our liberation.
This anti-Black world loves telling us how to live, but we should refuse to let them control how we die or grieve. Preserving Black funeral homes is crucial to the culture.
If you're considering end-of-life planning for yourself or a loved one, consider using sites like the Yellow Pages to find Black-owned funeral homes in your city.
We have a quick favor to ask...
We hope you're enjoying PushBlack Spirit! Spreading the truth about Black spiritual practices and history is just as important to you as it is to us.
And as a small non-profit, we need your support to keep spreading these important stories.
With as little as $5 a month, you will support our tech and writing costs, so we can reach even more people like you. It only takes a minue, so will you please donate now?