Three Sacred Black Burial Traditions We Must Keep Close
There's a reason calling someone 'casket sharp' is a high compliment in our culture - we care for our deceased with the utmost respect. These three sacred burial traditions have been around for generations.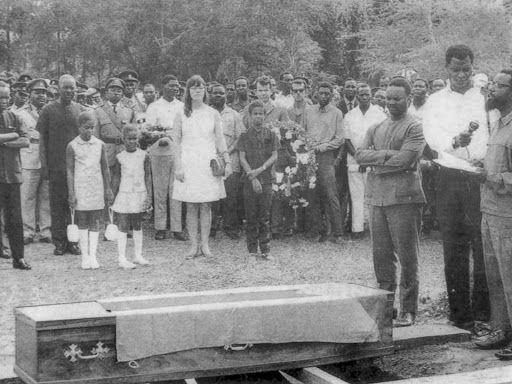 Centuries of systems founded on anti-Blackness have led to the too-early and too-often deaths of our loved ones. We lovingly honor their lives by upholding these burial traditions.
#1 Open Casket

There's a reason being called 'casket sharp' is a compliment in our culture. Black funerals traditionally feature open caskets; we care deeply for our deceased, so dressing them to the nines is crucial.  
#2 RIP T-Shirts
When a loved one dies, we make ourselves into walking memorials with RIP T-Shirts. Photos, spray-painted letters, and loving messages make this remembrance ritual sacred and a unique way to keep their memories alive.
#3 Repast
It wouldn't be a Black funeral without a repast. It's a time for bereaved families to fill their bellies and be wrapped in community because just as it takes a village to raise a child, that same village is needed to help our loved ones transition to ancestors.
Our people bury our deceased in the most beautiful ways. It's tender, and much thought and care goes into the process. These burial traditions are things to hold on to for generations and generations to come.
This is a gentle nudge to consider your end-of-life planning. How do you wish to be celebrated?

We have a quick favor to ask...
We hope you're enjoying PushBlack Spirit! Spreading the truth about Black spiritual practices and history is just as important to you as it is to us.
And as a small non-profit, we need your support to keep spreading these important stories.
With as little as $5 a month, you will support our tech and writing costs, so we can reach even more people like you. It only takes a minue, so will you please donate now?