This Yoruba Orisha Shaped Creation With Love
He was the West African deity who made all humans. The first few humans all looked the same. But one night he lost control and woke up to a creation he had never expected. But it turned out to be the most sacred.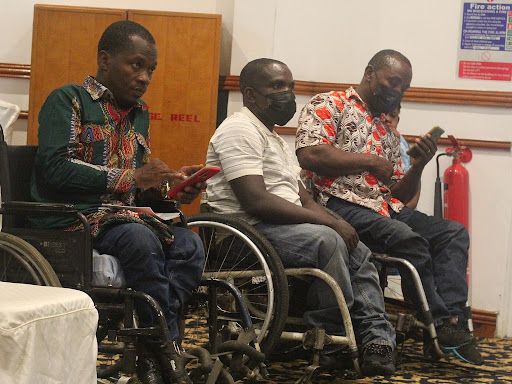 Present at the dawn of creation Obatala, Yoruba Orisha of the sky, was tasked to create the earth along with the human race. As mythology goes, Obatala – known for his peaceful demeanor – was the right Orisha to give life to the world.
Dressed in all-white, Obatala carefully crafted men, women, and children, sculpting their forms with love and tenderness. But one night he lost control.
Having indulged in too much palm wine, Obatala stayed up late creating more people.  But these creations were different from his original ones.
The following day he awoke to find that in his drunken stupor he had created differently abled humans. From that moment on Obatala vowed to never drink alcohol again and to protect those with disabilities.
Obatala's devout followers don't drink alcohol. Historically many cultures within West Africa associated those with disabilities as sacred and immensely spiritually protected.
Thirteen percent of Black people in America have a disability. Disability has always been a part of the Black experience and as we reimagine Black futures we must consider how we are creating space for everybody and every BODY.
We must treat all bodies with love. This starts by recognizing that bodily differences are ok, and we don't apologize for what our bodies can and cannot do.
We have a quick favor to ask...
We hope you're enjoying PushBlack Spirit! Spreading the truth about Black spiritual practices and history is just as important to you as it is to us.
And as a small non-profit, we need your support to keep spreading these important stories.
With as little as $5 a month, you will support our tech and writing costs, so we can reach even more people like you. It only takes a minue, so will you please donate now?