This Street Party Bridges History And Culture To Break Enslavement's Shackles
They helped lather each other in oil, affixing the devil horns to their heads. Chains and ropes dangled from their hands. This was a joyous occasion - enslavement had ended. So why were they dressed like devils?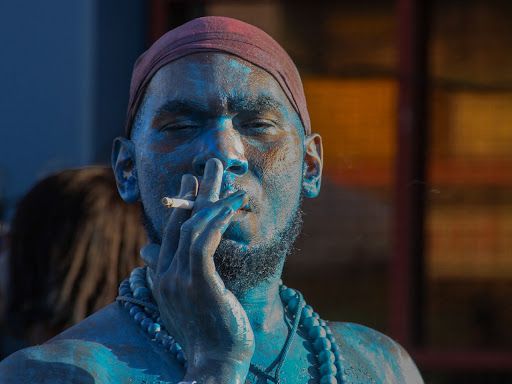 A cousin to Carnival, "J'ouvert," which literally means "day break," signals the beginning of something special. The boisterous street festival begins around 4:00 am, and is a yearly tradition on different dates in many places around the world, including Trinidad, Grenada, and the U.S.

Originating in 1798, enslaved Trinidadians were denied access to masquerade balls put on by their French plantation owners.

To commemorate the ending of slavery, they started throwing their own parades. There, they would imitate and mock their former masters, adding humor to the already joyous occasion.
Participants cover themselves in paint and wear masks during the celebration. This stems from the early "jab jabs."
Jab jabs were people who adorned themselves with burnt cane and oil, devil horns, and staffs to represent their old slave masters. Armed with chains, ropes, and snakes, jab jabs incite fear in spectators to make a historical connection to the treatment of Black enslaved people.

As soca and calypso music fill the streets, participants honor their ancestors who fought for their freedom.

In this way, J'ouvert is more than just a block party; it is a consecration of our heritage. For Black people across the diaspora, celebration is often also revolution. How can you be a part of the revolution today?
We have a quick favor to ask...
We hope you're enjoying PushBlack Spirit! Spreading the truth about Black spiritual practices and history is just as important to you as it is to us.
And as a small non-profit, we need your support to keep spreading these important stories.
With as little as $5 a month, you will support our tech and writing costs, so we can reach even more people like you. It only takes a minue, so will you please donate now?