This Community Is Supporting The Spiritual Wellness Of Black Boys
Tears rolled down his face as they watched. But how they responded wasn't the usual "Boy man up!" These men are doing something truly beautiful for our community.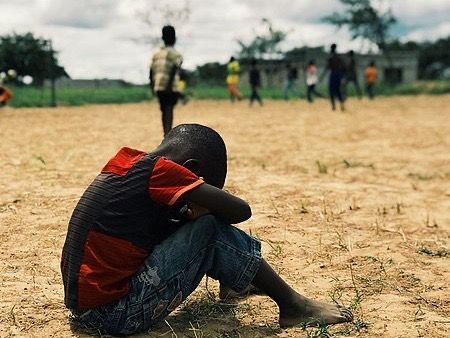 Closing his eyes, Danny Fluker Jr. released a soft "om" from his mouth, leaning deeper into his yoga pose. Appreciating the sunlight on his skin, he looked around the room, humbled to see it full of Black men.
Fluker established Black Boys Om in 2018 which went from being a small Atlanta collective to an international grassroots organization with over 2,100 community spaces and 300 Black male Yoga instructors.
The program centers healing for Black men and boys, teaching them yoga, meditation, and mindfulness practices.  
Historically, enslavers did everything to emasculate Black men. They wanted to intentionally break their spirits.
An unfortunate legacy that came from this was the toxic coping response to "man up," and that "Black boys don't cry."
The Black Boy Om community is actively dismantling this narrative by providing Black men and boys with wellness programs that focus on unpacking trauma, developing constructive life habits, and encouraging them to be emotionally vulnerable with themselves and other Black men.
Black men are 4 times more likely to commit suicide than Black women. Let's destroy the narrative that Black Boys and men don't need care, softness, support, and safe spaces to cry.
We ALL need consistent TLC if we are going to beat anti-Blackness. How are you cultivating space your community can be vulnerable in?
We have a quick favor to ask...
We hope you're enjoying PushBlack Spirit! Spreading the truth about Black spiritual practices and history is just as important to you as it is to us.
And as a small non-profit, we need your support to keep spreading these important stories.
With as little as $5 a month, you will support our tech and writing costs, so we can reach even more people like you. It only takes a minue, so will you please donate now?