She Wrote These Powerful Books To Address Racism And Gender
A tumultuous home life turned her into an influential writer who wields words as literary weapons needed to overthrow oppression. These are her must-read books.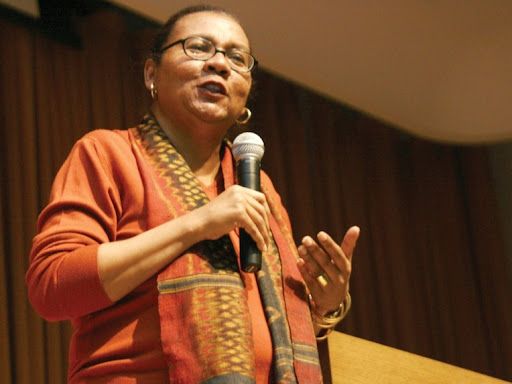 bell hooks was born into a brutal world marked by toxic masculinity at home and white supremacy outside. But she used her pen to fight back. Today, the prolific writer has published over thirty books critically exploring racism, gender, and capitalism. These are the must-read books by bell hooks.
Named after Sojourner Truth's "Ain't I A Woman?" speech, "Ain't I A Woman" examines the complexities of Black womanhood. Using the intersectionality of racism and sexism as scope hooks exposes how enslavement contributed to the dual oppression often experienced by Black women.
In her always-popular title, All About Love, hooks seeks to redefine society's elusive meaning of love. In a sea of self-help books that often say love requires no definition, she urges us to define love and treat it as a verb that requires action and a commitment to spiritual growth.
Inspired by Gwendolyn Brooks's 1958 poem "We Real Cool," bell hooks' 2004 essay collection dispels stereotypes about Black men. She expands on issues like the school-to-prison pipeline and how easily Black men are criminalized in this white supremacist world.
The works of bell hooks and other beloved Black writers go beyond entertainment. We must know them, study them, and use them as tools necessary to fight for Black liberation!
We have a quick favor to ask...
We hope you're enjoying PushBlack Spirit! Spreading the truth about Black spiritual practices and history is just as important to you as it is to us.
And as a small non-profit, we need your support to keep spreading these important stories.
With as little as $5 a month, you will support our tech and writing costs, so we can reach even more people like you. It only takes a minue, so will you please donate now?