Resources For Caring For Your Body And Spirit Every Day Of The Week
Many of us want to deepen our spiritual practices, but don't know where to start. Here is a broad list of resources, accounts, and practitioners that give us life and lift our spirits.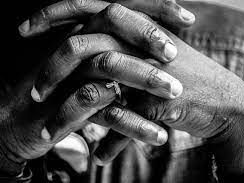 #1: Social Media
There are numerous accounts on Social Media dedicated to spirituality or spiritual wellness.
Some great Instagram accounts to follow are @Alex, @BlackLiturgies, @MichellCClark, @LalahDelia, and @YourSpiritualMermaid.
#2: Books
There are many books and audiobooks that tap into Black spirituality.
Some of our picks are "Sacred Woman" by Queen Afua, "African Goddess Initiation" by Abiola Abrams, and "Love & Rage" by Lama Rod Owens.
#3: Self-Care Products
Caring for our bodies is essential for cleansing our spirits.
These Black owned businesses intentionally work spiritual wellness into their product lines, like Quinton and Terran Lewis' natural soap line "Herb'N Eden," Bea Dixon's plant-derived feminine care line "The Honey Pot," and icon Alicia Keys "Keys Soulcare."
#4: Journaling As Manifestation
Journaling is a powerful way to write out our manifestations and dreams. We can then use our entries to hold ourselves accountable to turn these dreams into realities.
A journal brand we're shouting out is Set In Soul.They have self-guided journals for a wide range of needs and interests.
All these resources are amazing, but only you can show up for your spiritual journey. The first step is believing you are worthy of love, care, healing, and divine freedom. Trust that you are.
We have a quick favor to ask...
We hope you're enjoying PushBlack Spirit! Spreading the truth about Black spiritual practices and history is just as important to you as it is to us.
And as a small non-profit, we need your support to keep spreading these important stories.
With as little as $5 a month, you will support our tech and writing costs, so we can reach even more people like you. It only takes a minue, so will you please donate now?