How We Can Spiritually Reclaim this Black Landmark and Redefine Belonging
To be Black is to belong deeply to ourselves and to our community, laughter, food, creativity, and our relationships with Spirit. Reclaiming "belonging" is also healing for our ancestors. Here's how we can welcome our ancestors home.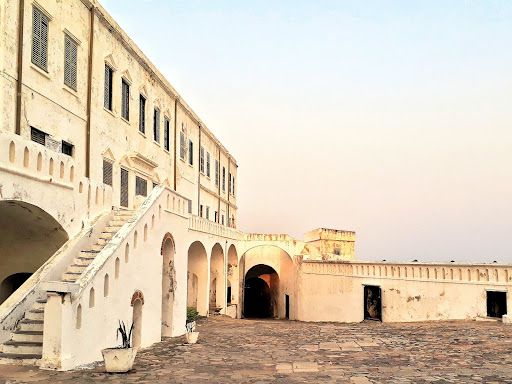 "The Door Of No Return" isn't just one door, but many doors carved into the walls of slave dungeons. Enslavers herded our ancestors through these doors onto slave ships.
Many of us visit The Door to pay homage to our ancestors. But what if there was a way to reclaim it?
Within "A Map To The Door Of No Return: Notes to Belonging," Dionne Brand shares The Door is a physical and spiritual site. The Door energetically represents both beginnings and endings for our ancestors – and because of ancestral ties, we're energetically connected to The Door.
As Brand explores this connection, they see The Door as a "site of belonging and unbelonging."
Many of us struggle with politics of belonging. But we have the power to reclaim what passes through the door and was stripped from our ancestors.
To be Black is to belong deeply to ourselves and to our community.
By reclaiming our sense of belonging we return to ourselves, and in doing so we create another energetic door. The Door of Return.
This Door is another spiritually energetic site. A portal existing outside of anti-Black linear time, one that we can open and invite our ancestors through to rest and stay a while.
Reminding them that within us they not only survived, but belong.
We have a quick favor to ask...
We hope you're enjoying PushBlack Spirit! Spreading the truth about Black spiritual practices and history is just as important to you as it is to us.
And as a small non-profit, we need your support to keep spreading these important stories.
With as little as $5 a month, you will support our tech and writing costs, so we can reach even more people like you. It only takes a minue, so will you please donate now?