How This Black Spiritual Practice Is Hidden In Our Everyday Lives
Has your grandmother ever dreamed of fish and predicted a pregnancy? Think 'splitting the pole' is bad luck? Often chalked up to superstition, these four common beliefs are hidden Hoodoo messages passed on for generations.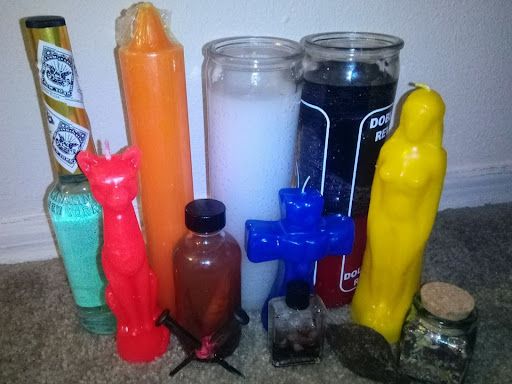 Often reduced to superstition, Hoodoo is an herbal-based, healing, ancestral system of beliefs. As with many African Diasporic Religions, anti-Blackness condemned the practice, forcing Hoodoos to hide in plain sight.
But many of us have retained Hoodoo-isms for generations without even realizing it.
Fish Dreams

Chances are you've heard that if someone in your family, usually an elder, dreams of fish, it's believed to mean that someone they know is pregnant. Ancestrally, Yemayá, the Yoruba orisha known as the Queen of the Sea, helps with fertility.
Haint Blue

Blue is widely celebrated across African spiritual traditions. In the South, porches, doors, and shutters are painted 'haint blue' because our folks believe the hue protects their families against evil spirits, known as haints.
NYE Ritual

Making Hoppin' John, a black-eyed peas, rice, pork, and collard greens dish, on New Year's Eve for prosperity and cleaning the home to remove the stagnant energy from the previous years is another hidden Hoodoo-ism.
Ginger Ale

Canada Dry may not contain raw ginger, known to cure nausea, but historically we've relied on herbal medicine to fix our ailments. So it's no wonder we've turned to ginger ale for upset stomachs for decades.

Anti-Blackness has made us believe that our spirituality isn't divine. Think of the many Black cultural beliefs you've been taught. Could they be hidden Hoodoo in your life?

We have a quick favor to ask...
We hope you're enjoying PushBlack Spirit! Spreading the truth about Black spiritual practices and history is just as important to you as it is to us.
And as a small non-profit, we need your support to keep spreading these important stories.
With as little as $5 a month, you will support our tech and writing costs, so we can reach even more people like you. It only takes a minue, so will you please donate now?