His Spirit Was Tired Of The Grind
Grind culture isn't for us. John Henry, a notoriously powerful railroad worker, learned this the hard way after outpacing a steam drill snatched his life away. His story teaches us a valuable lesson.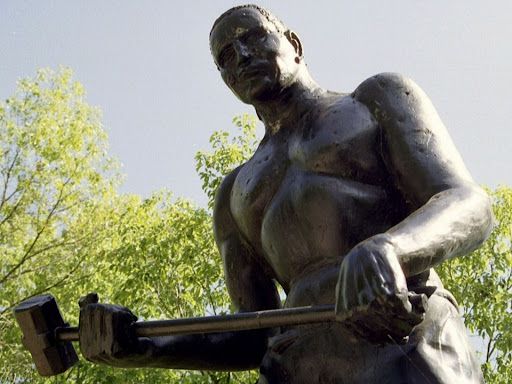 John Henry was sweating bullets building West Virginia's Great Bend Tunnel. Working the railroad wasn't easy; it required long hours and paid low wages.
Was the grind worth it?
Henry was known as the most powerful man on the tracks. He became a symbol of hard work for the many Black folks whose blood, sweat, and tears built and maintained the railroads.
It was a dangerous legacy to carry.
In the 1870s, building a tunnel was a long and slow process, using only a hand drill and a hammer. When the company brought in a steam drill to speed up the process, all eyes were on Henry to prove he could drill faster and further than the machine.
With a hammer in each hand, he conjured up the strength to drill a 14-foot hole into the rock, beating the steam drill's nine-foot dig.
Henry defeated the machine, but exhaustion killed him soon after. In Hoodoo, John Henry is a 'road opener' and a revered divinity of technology and labor. We can honor his determined spirit while still acknowledging that Henry's legacy is a cautionary tale for our people.
We're not meant to outrun machines, but anti-Black grind culture has tried to make us believe otherwise. Our value as people isn't dependent on our labor. We deserve the rest that many of our ancestors never had.
We have a quick favor to ask...
We hope you're enjoying PushBlack Spirit! Spreading the truth about Black spiritual practices and history is just as important to you as it is to us.
And as a small non-profit, we need your support to keep spreading these important stories.
With as little as $5 a month, you will support our tech and writing costs, so we can reach even more people like you. It only takes a minue, so will you please donate now?