Before Calling Upon New Ancestors Or Spirits We've Got To Build Trust
Has a new ancestor or spirit been presenting themselves to you recently? Don't get caught up in the excitement of this just yet! Before calling upon them you must know if they can be trusted.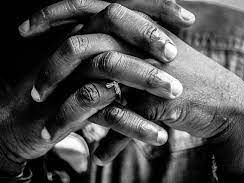 Unfortunately, not all ancestors, spirits, and universal energies are here for our liberation.
Before working with any ancestors or spirits we must be discerning about whether or not they are "benevolent."
To be benevolent means to be kind, helpful, or "good." A benevolent ancestor or spirit will want to put their energy towards your liberation and healing.
So how do we discern which ancestors and spirits are benevolent?
Get to know new ancestors and spirits when they present themselves to you. Ask them questions, provide offerings, journal, dream, or if it's within your practice, use divination tools like tarot cards or root work to better discern their intentions.
Once you've built trust with them, ask questions about their vision for Black liberation and how you can work together to turn this into a reality.  
One thing we can't overlook in this process is that not all our ancestors are Black. Especially when dealing with white ancestors we have to reframe our way of calling them entirely and consider if they are willing to make spiritual reparations.
Pay attention to which ancestors and spirits are consistently presenting themselves within your spiritual work. What are their intentions? Do these align with your own spiritual work?


We have a quick favor to ask...
We hope you're enjoying PushBlack Spirit! Spreading the truth about Black spiritual practices and history is just as important to you as it is to us.
And as a small non-profit, we need your support to keep spreading these important stories.
With as little as $5 a month, you will support our tech and writing costs, so we can reach even more people like you. It only takes a minue, so will you please donate now?