We Do Some Of Our Most Powerful Spiritual Work In Silence
Anti-Blackness doesn't want us to feel safe sitting in silence because that's where we do some of our most powerful spiritual work. But this massive protest reminds us just how powerful we are when we choose to sit quietly with spirit.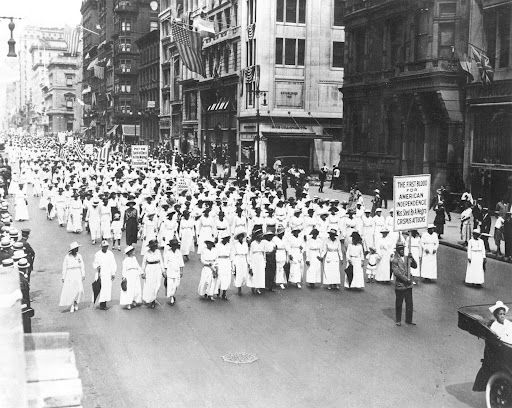 It must have seemed like the second coming. Thousands of Black people, dressed in white, strode down New York's streets, right where the Trump building stands today.
But something was different about this protest.
There weren't bullhorns, nor any shouting, clapping, or singing. It was just a sea of our people in a glorious procession. Silent.
Why no sound?
Throughout July 1917, our people were ambushed. Hundreds of men, women, and children were drowned, beaten, lynched, and burned.
Roughly 6,000 Black people were displaced from their burned homes. And they went quietly, but not in the way you'd think.
Led by the NAACP, our people united in the tens of thousands in order to make an impact. Armed only with signs that read mottos such as "Make America Safe For Democracy" and "Your Hands Are Full Of Blood," they marched in complete silence.
And the country took notice, with people all over America raising their voices against anti-Blackness.
Anti-Blackness is a form of spiritual warfare we must learn to protect our spirits from. Sometimes this looks like setting a loud, clear boundary. Sometimes this looks like doing spiritual work in silence.
All the noisy distractions in the world teach us to fear silence, but silence allows for self-reflection. When was the last time you sat in silence?
We have a quick favor to ask...
We hope you're enjoying PushBlack Spirit! Spreading the truth about Black spiritual practices and history is just as important to you as it is to us.
And as a small non-profit, we need your support to keep spreading these important stories.
With as little as $5 a month, you will support our tech and writing costs, so we can reach even more people like you. It only takes a minue, so will you please donate now?