This Orisha's Sacrifice Shows Us The Power Of A Black Mother's Love
When her water broke, her amniotic fluids spilled over Earth, creating our rivers and seas. Mother of all, she shows us just how powerful a Black mother's love can be, teaching us valuable lessons along the way. Cheers to all Black mothers. May we know them, may we be them, may we love them.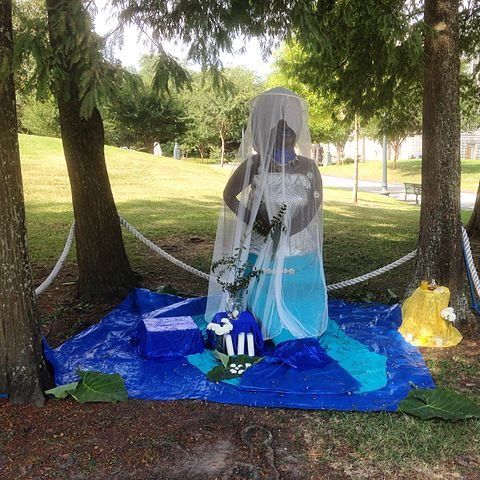 #1: Adapting
Originally Yemonja resided in the Ogun River, only becoming an Orisha of the sea when she saw her children, enslaved Africans, being stolen. She adapted and traveled with them.
Now referred to by many names, Yemonja was often referenced as the Virgin Mary by enslaved Africans so they could worship her in plain sight.
#2: Cycles
Yemonja is connected with the moon and controlling the tides. Her influence on these ongoing cycles teaches us value in consistency, routines, and listening to our needs.
Which routines would you like to be more consistent with?
#3: Accountability
Yemonja possesses nurturing, loving energy. But even she has limits. Floods, tsunamis, and shipwrecks are ways Yemonja holds us accountable.
While these seem harsh, the lesson is to address conflict while it's a small wave versus a tsunami on the horizon.
#4: Activism
Anti-Blackness continues to pollute water in our communities such as Flint, MI or Jackson, MS . These are direct attacks against Yemonja, and she needs help.
Caring for ourselves means caring for the Earth. How can we take a stand to protect Earth's waters?
Yemonja teaches us about sacrifice and unconditional love mothers give their children. But she teaches us to care for ourselves, too.
How do you make time for spiritual wellness within your life?
We have a quick favor to ask...
We hope you're enjoying PushBlack Spirit! Spreading the truth about Black spiritual practices and history is just as important to you as it is to us.
And as a small non-profit, we need your support to keep spreading these important stories.
With as little as $5 a month, you will support our tech and writing costs, so we can reach even more people like you. It only takes a minue, so will you please donate now?