This Color Holds Immense Spiritual Significance For Black People
You see this color throughout the South, but many aren't aware of its complicated history. How can one color be both anti-Black and a celebrated Black spiritual protectant?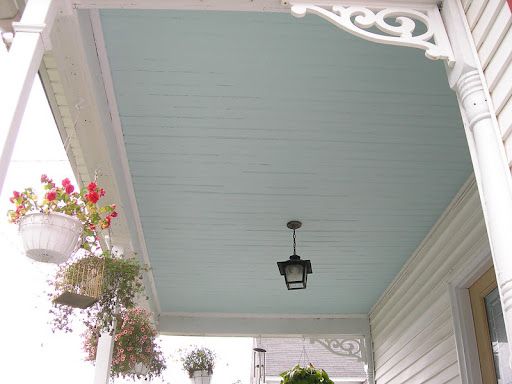 Traveling through the South, you'll notice many homes proudly showcase porch ceilings, doors, and window treatments painted a specific color blue.
But this color choice goes way deeper than a popular design preference.
The color blue is celebrated within many African spiritual traditions. Blue especially honors the Yoruba deity Iya Mapo, protector of women's crafts and professions.
Many Black families believe blue protects them from evil spirits known as "haints," who draw from ancestral trauma by conjuring up illusions of "uncrossable" waters. But that's not all the appropriately named "haint blue" signifies.
In the 18th century, indigo plants produced coveted blue dye. Its production drove up South Carolina's economy, its value far exceeding cotton.
But to produce the dye was excruciating. Many of our ancestors worked themselves to death in the brutal conditions that were indigo plantations.
More recently, Black people have been reclaiming the color indigo as a color that represents our people's ability to survive and resist anti-Blackness.
There's a saying, "they're so Black they're blue." It's derogatory and rooted in colorism. But what if, like indigo, we reclaimed this saying? What if we reimagined "blue Black" as divinely protected, celebrated, loved, and representative of communal resilience?
What if we walked around with the pride of being "so Black" because we knew our Blackness was holy?
We have a quick favor to ask...
We hope you're enjoying PushBlack Spirit! Spreading the truth about Black spiritual practices and history is just as important to you as it is to us.
And as a small non-profit, we need your support to keep spreading these important stories.
With as little as $5 a month, you will support our tech and writing costs, so we can reach even more people like you. It only takes a minue, so will you please donate now?