The Beautiful Way Black Folks In New Orleans Celebrate Loss
Trombones lifted toward clouds. A symphony of bodies dance. The streets become a church. There are tears of grief and joy – enter New Orleans' Second Line, a sacred mourning ritual with a beautiful reminder about loss and healing.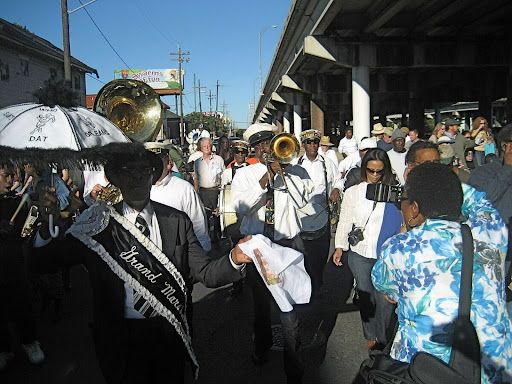 Trombones, trumpets, and tubas hum in harmony. "Second Line!" someone yells after peaking out the kitchen window and seeing a parade of Black folks cutting up outside.
Much more than a parade and not quite a party, second lines are a sacred cultural tradition in New Orleans that originated during enslavement, with roots in West Africa. They remain a crucial part of homegoing celebrations today.
The houses along the route transform into the walls of a church as folks flow down the street in a solemn symphony yet a joyous remembrance of life. The second line is the crowd of mourners and community members who follow the first line of the parade, which includes the casket, family, and musicians.
During a second line, sometimes called a jazz funeral, grief is a collective burden shared among the community. Once a salve for enslaved New Orleaneans experiencing loss of identity and agency, the second line is now balm for our people dying systemically from anti-Blackness like police brutality and inequitable healthcare.  
For many of us, grief has been persistent but communal traditions like second lines, R.I.P. T-shirts, and collective altars allow us to honor those who came before us while carrying each other through loss.

The Second Line is a beautiful part of Black grief culture and reminds us that no matter the loss, all healing requires community.
We have a quick favor to ask...
We hope you're enjoying PushBlack Spirit! Spreading the truth about Black spiritual practices and history is just as important to you as it is to us.
And as a small non-profit, we need your support to keep spreading these important stories.
With as little as $5 a month, you will support our tech and writing costs, so we can reach even more people like you. It only takes a minue, so will you please donate now?