Prayer Is Always An Option, Whether We're Thriving Or Hitting Rock Bottom
"Open your heart and quietly to yourself say the only prayer that's ever needed: Thank you." – Oprah Winfrey. How do you pray? Prayer is powerful, but there are infinite ways to do it. Are you praying in a way that roots you in YOUR power?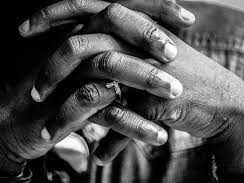 According to Pew Research, 63% of Black Americans pray daily, and many of us are more likely to rely on prayer than on advice from religious leaders.

Prayer can be healing, meditative, or a way to connect with ancestors. You don't have to attend church to pray – there are infinite ways to do it!

#1: Prayer As Manifestation: "Whatever you focus on expands within your life."

When we manifest something, we're calling it into existence! Through manifestation we can simultaneously practice gratitude, ask our ancestors for guidance or protection, and continue to deepen our own growth and self-reflection.
#2: Singing – "Singing is praying twice."

Singing, humming, and vocalizing have always been a part of the Black experience, even predating enslavement and colonization. Especially for enslaved Africans, singing was both a form of prayer and resistance.
#3: Altar Building – "Building an altar is a way to deepen your faith."
Building an altar is deeply personal, as you get to decide what you put on it and how you worship with it! It's where you can honor your ancestors and/or spirit guides, and carve space for your manifestations to live.
How do you pray? Are there any new forms of prayer you'd like to explore?
There are infinite ways to pray – explore which prayer methods work best for you!
We have a quick favor to ask...
We hope you're enjoying PushBlack Spirit! Spreading the truth about Black spiritual practices and history is just as important to you as it is to us.
And as a small non-profit, we need your support to keep spreading these important stories.
With as little as $5 a month, you will support our tech and writing costs, so we can reach even more people like you. It only takes a minue, so will you please donate now?