Our Ancestors Walked Through This Eternal Door. We're Still Walking With Them Today
Standing next to the door, you wouldn't even think a child could fit through it. So how did hundreds of our ancestors pass through it? And what did it do to their spirits to do so?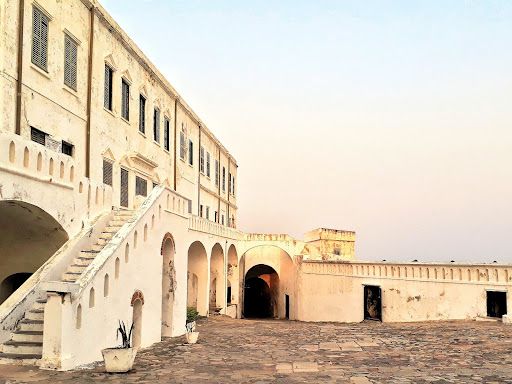 Stolen from their land, never to see their families again, enslaved Africans were forced to march for weeks before reaching the ominous slave castles that littered West Africa's shoreline. Once inside, they were starved, raped, and forced to live in their own feces by white enslavers.
They were barely skin and bones by the time they walked through "The Door Of No Return."
"The Door Of No Return" is actually a reference to a series of  tiny doors carved into the walls of slave dungeons. Enslavers herded our ancestors through these doors onto ships waiting offshore.
For many, the view of the ships from the door sealed their fate.
Those doors still exist today. We are continuously battling the hellscape that is anti-Blackness.
Our ancestors looked Hell in the eyes and refused to let it shackle their spirits. Our very existence is proof they became spiritually resilient.
We are proof that we have the power and right to open any door that anti-Blackness tries to close on us. We are proof that we can build our own doorways to freedom.
We have a quick favor to ask...
We hope you're enjoying PushBlack Spirit! Spreading the truth about Black spiritual practices and history is just as important to you as it is to us.
And as a small non-profit, we need your support to keep spreading these important stories.
With as little as $5 a month, you will support our tech and writing costs, so we can reach even more people like you. It only takes a minue, so will you please donate now?