Motherhood Is A Full Time Job, So She Didn't Rest For Centuries
"God could not be everywhere, so he created mothers." – Jewish Proverb. Fighting exhaustion, this mother balanced a baby on each hip and pushed onwards. She needed to make it to the slave ships – she was their last hope!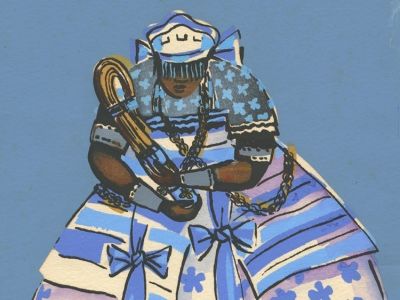 The Fon and Ewe people of West Africa believed the deity Nana Buluku birthed cosmic twins, Mawu-Lisa. Mawu, the feminine moon, and Lisa, the masculine sun.
Nana loved Mawu-Lisa, but parenting was a full time job. The moment Lisa went to sleep, Mawu awakened. Nana needed rest, but pressures from outside evils made it clear she wouldn't rest – for hundreds of years!
When kidnappers began enslaving African people, Nana knew she must act, sacrificing any chance she had of resting. Nana boarded the slave ships as a spirit guide, instructing Mawu-Lisa to protect the ships day and night.
Nana's legacy is still celebrated globally, having been kept alive by cunning enslaved Africans who, not wanting to get caught worshiping her, adopted a "disguise" for Nana. To trick enslavers, they referred to her as "Our Lady of Mt. Carmel," who is the mother of Mary and grandmother of Jesus.

It wasn't until exportation of enslaved Africans overseas was abolished that Nana rested – permanently! She retired, knowing Mawu-Lisa would protect those who remained enslaved.
Often we don't rest because there's "work to be done," but rest is essential for our well being – including our spiritual health! Rest, like faith, is a practice.
Can we incorporate rest within our faith practices as a form of empowerment? Rest is Resistance!
We have a quick favor to ask...
We hope you're enjoying PushBlack Spirit! Spreading the truth about Black spiritual practices and history is just as important to you as it is to us.
And as a small non-profit, we need your support to keep spreading these important stories.
With as little as $5 a month, you will support our tech and writing costs, so we can reach even more people like you. It only takes a minue, so will you please donate now?