Malcolm X: "Key Witness" In A Fight For Religious Rights?
Isaiah 61:1 explains the role of the prophet: "The Lord has appointed me for a special purpose. He has anointed me to bring good news to the poor. He has sent me to repair broken hearts. And to declare to those who are held captive and bound in prison: Be free from your imprisonment!"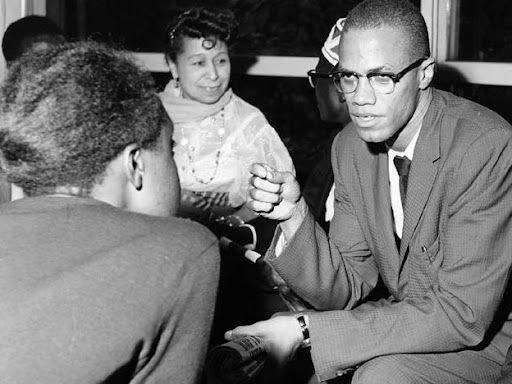 It was 1962 Buffalo, New York. The air in the courtroom already felt like history. He walked in, remembering the letter the plaintiff had written him:
"The 'Key' [witness] I am depending on to 'seal' our victory … is 'You' Minister Malcolm X."
Despite admitting to an eighth grade education and no "formal" training, Malcolm X testified in SaMarion v. McGinnis, a case filed by five incarcerated Muslims. They demanded the right to practice their religion, including access to a local minister, the Qu'ran, and halal meals.
And Malcolm was on fire.
He argued so smoothly that he even got the conservative white judge, John Henderson, to stop using "Negro" in favor of "Black" as a "mark of respect." And later, Henderson gave the Commissioner of Correction 30 days to recognize Black Muslims and clean up his act.
Malcolm's legacy in that courtroom still rings today.
By 1994, 99% of incarcerated Muslims converted while in prison – the majority of them Black. Now, there are over 11,000 Muslims in federal prisons – and the changes X fought for affect them all.
Through their spirituality, Malcolm X and a community of Black incarcerated Muslims found liberation and survival. And, they dared to challenge the system that worked to stop them – proving that white supremacy can jail you, but cannot steal your liberation once it's already inside you.

We have a quick favor to ask...
We hope you're enjoying PushBlack Spirit! Spreading the truth about Black spiritual practices and history is just as important to you as it is to us.
And as a small non-profit, we need your support to keep spreading these important stories.
With as little as $5 a month, you will support our tech and writing costs, so we can reach even more people like you. It only takes a minue, so will you please donate now?