Leading With Loving, Abundant Spirits
Prayer For Abundance: I have everything I need. God is going to continue to open doors for me because I am aligned with my purpose. I believe freedom must be a shared practice. When anti-Black scarcity mindset kicks in, I will remember that abundance is possible for both me and my community.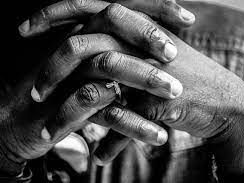 Before we can pray for abundance we must first unlearn what capitalism has taught us about it. Too often, abundance is associated with obtaining financial wealth.
Anti-Blackness historically weaponized wealth by viewing our enslaved ancestors as capital, and then made it nearly impossible for us to build generational wealth.
Solely praying for financial abundance means we're actually feeding energy into capitalism, which drains our spirits and relationships with others. How can we reclaim abundance in ways that align with God's plan for us?
Let's first remember that we already have everything we need. Spiritual abundance exists in how we practice love, share resources, express gratitude, and care for our communities.
Historically, community care is where our ancestors practiced abundance. During slavery, spiritualists gathered their communities late at night and reminded them God was for Black liberation.
Post emancipation, survivors of the Clotilda banded together and created Africatown. Herbalists provided accessible healthcare to their communities. The Black Panther Party started school breakfast programs. The examples are infinite. Like abundance.
As we build liberated futures, we have the power to redefine what abundance is for us. Redefining begins with honoring the community care efforts we've always leaned into despite anti-Blackness trying to divide us.
We already have everything we need.
We have a quick favor to ask...
We hope you're enjoying PushBlack Spirit! Spreading the truth about Black spiritual practices and history is just as important to you as it is to us.
And as a small non-profit, we need your support to keep spreading these important stories.
With as little as $5 a month, you will support our tech and writing costs, so we can reach even more people like you. It only takes a minue, so will you please donate now?