In The Corridors Of A Church, They Planned A Rebellion
James H. Cone reminds us: "To sing about freedom and to pray for its coming is not enough. Freedom must be actualized … by oppressed people." One preacher embodied this – by using his pulpit to change the world for centuries to come.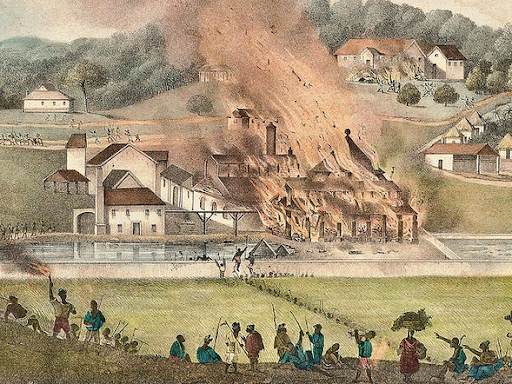 When he wasn't slaving away on the sugar cane plantations, Samuel Sharpe was the Baptist Deacon for his people. Within that community, under the guise of worship, he would preach about abolition to his enslaved congregation. And he did more than preach.
Christmas was coming, and Sharpe laid out his plan. On those Jamaican shores, the enslaved Africans were going to make their voices heard and touch freedom – or death.
Through the local news, Sharpe had discovered that Parliament was considering legally ending slavery. Convinced that the abolition act had already passed and white planters were simply disregarding it, he decided it was time to act!

He led a protest on Christmas day, which was largely ignored because it was too passive.

So, a few days later? The protest transformed into a riot, where tens of thousands of enslaved people began looting and burning plantations! This would eventually be called the Baptist War.

Sharpe was executed for leading the rebellion – but less than two years later, and as a result of the unrest, the Abolition Act would be passed. "I would rather die upon yonder gallows than live in slavery," he proclaimed before his death.

He was committed to his people's liberation by any means necessary, and viewed his people's liberation as an essential element of his spiritual calling. Shouldn't we all?
We have a quick favor to ask...
We hope you're enjoying PushBlack Spirit! Spreading the truth about Black spiritual practices and history is just as important to you as it is to us.
And as a small non-profit, we need your support to keep spreading these important stories.
With as little as $5 a month, you will support our tech and writing costs, so we can reach even more people like you. It only takes a minue, so will you please donate now?