How Embracing This Quality Can Be The Key To Love and Liberation
We are stronger united. Blackness is armor. Love. Strength. Community. Our Black is beautiful and nuanced. There is no one "Black experience." And to beat anti-Blackness we must have compassion for our differences.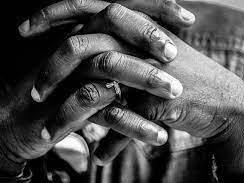 Anti-Blackness fears the idea of difference because it's based its power on being the "societal norm." It is SO important that we embrace what makes us different.
When someone or something is different all that means is that they're not conforming to anti-Black social expectations. Instead, they are leaning into their divine image, being exactly what God created them to be.
We are all painted in God's image and God is infinite. This means there is room for difference in how we present ourselves and navigate the world.
God doesn't care about our differences. God cares about compassion.
"The Lord is full of compassion and mercy." - James 5:11.
Compassion means having "consciousness of others' distress together with a desire to alleviate it."
In the context of Black liberation, Spirit wants us to have compassion for ALL Black people – Black people we're similar to AND Black people we're different from. We must be aware of the different forms of oppression we face and show up for one another.
God intentionally created a world in which all of our differences can exist. Throughout history Black leaders who practiced compassion were able to put ego aside and identify what it was they were passionate about: liberation for all Black people.
Compassion is how we heal our spirits. Compassion is the only way we will beat anti-Blackness.
We have a quick favor to ask...
We hope you're enjoying PushBlack Spirit! Spreading the truth about Black spiritual practices and history is just as important to you as it is to us.
And as a small non-profit, we need your support to keep spreading these important stories.
With as little as $5 a month, you will support our tech and writing costs, so we can reach even more people like you. It only takes a minue, so will you please donate now?