Her Powerful Spiritual Teachings Made Black Freedom Possible
We all deserve someone who prays for us. Kimpa Vita was that person for her people. Her powerful spiritual teachings inspired them to make an incredible change, and we can draw divine inspiration from her today, too.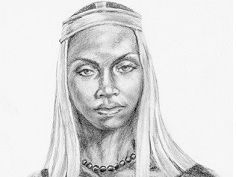 Their spirits were restless, and even though Sundays were usually for relaxation, this day was different. The sounds of drums and the promise of salvation gathered them by the river, perhaps for one last whispered prayer before the chaos ensued.
Lukangu! Lukangu!" meaning salvation, the Kongolese rebels chanted through South Carolina streets before tapping into their ancestral and Catholic ways from back home.
The lessons from their spiritual teacher Kimpa Vita pushed their Spirits to rebel. Vita believed Jesus and Mary were Black Kongoloese, and in the veneration of the Virgin Mary, known for her protective and revolutionary power.
In Afro-Catholicism, the Kongolese dedicate Saturdays to Mary. For the rebellion leaders preparation and prayers had begun the day before, on September 8th, with Mary's Feast of the Nativity, which they might've considered a blessing to revolt.
So they answered the call and rebelled like Hell, burning homes, killing oppressors, and taking their liberation as a part of God's will for our people.
Like the Stono Rebellioners who leaned on their faith and ancestral ways of being, we must understand both faith and fighting can co-exist on our path to liberation. God has always been on our side and always will be.
We have a quick favor to ask...
We hope you're enjoying PushBlack Spirit! Spreading the truth about Black spiritual practices and history is just as important to you as it is to us.
And as a small non-profit, we need your support to keep spreading these important stories.
With as little as $5 a month, you will support our tech and writing costs, so we can reach even more people like you. It only takes a minue, so will you please donate now?