Black Women Are Leading The Charge Of Self-Sufficiency And Restoration
She was exhausted. Between dealing with a toxic job and the stress of caring for her family, she needed relief. Here's how she found it.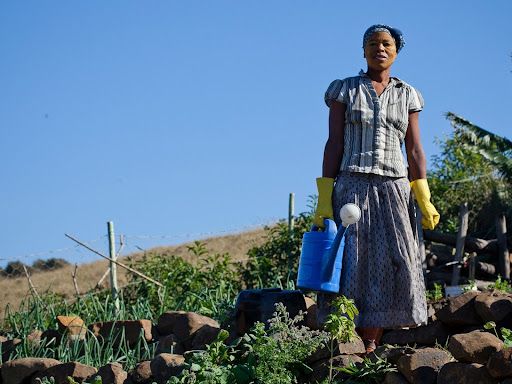 She had finally cracked. After losing her younger brother to gun violence in the South Side of Chicago and dealing with the grief of watching it repeatedly happen on the news, Chantel Johnson packed up. She headed to the middle of nowhere for something else. But she wasn't sure what that "else" was.
Johnson found it entirely off the grid at a homestead in the woods of North Carolina. Here she was on a thirty-acre plot of land in Bear Creek, with no real idea of what homesteading was, but feeling in her soul that it was exactly what she needed.
Johnson isn't the only Black woman to feel this pull on her spirit. What has become known as homesteading predates the Homestead Act of 1862. Today, thousands of Black women have turned their back on conventional and commercial capitalism and have returned to their Earth-tending roots.
Across social media platforms like Instagram and Youtube, countless Black women and families can be found running homesteads or nurturing home gardens. It's the self-sufficiency and community building that drives it.
Like Johnson, many have found beauty in homesteading life. We're returning to our community and nature-based foundations, and Black women are leading the charge. What small ways can you honor nature in your own life?

We have a quick favor to ask...
We hope you're enjoying PushBlack Spirit! Spreading the truth about Black spiritual practices and history is just as important to you as it is to us.
And as a small non-profit, we need your support to keep spreading these important stories.
With as little as $5 a month, you will support our tech and writing costs, so we can reach even more people like you. It only takes a minue, so will you please donate now?