Beware Of These Sneaky Scams Targeting People Seeking Spiritual Guidance
She woke up to a message that read, "Grand rising 💫 I'm drawn to you✨ The universe is telling me your ancestors are trying to reach you. Would you like a reading beloved💛" She responded "yes!" But immediately regretted it.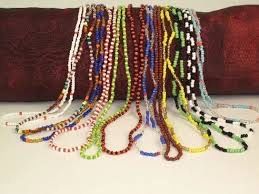 Throughout COVID, many people sought out spiritual leaders for hope.
But many got trapped in a nightmare.
Internet scams are at an all time high! On multiple social media platforms capitalist scammers are claiming to be priestesses, rootworkers, and Orisha practitioners!

They offer spiritual guidance for money — sometimes up to $500 — and then "block" those they've tricked after receiving payment.
This is infuriating to REAL practitioners who've dedicated their lives to spiritual work. It's gotten so bad some practitioners took their practitioner accounts off social media altogether.
To be clear, spiritual practices like Orisha worship require intensive training— there are multiple initiation processes, and best believe they're not happening on Instagram.

Someone who receives the first rite of initiation is an "Aleyo," and they're gifted an initiation necklace commonly known as "Elekes." Another initiation is "The Seven African Powers (Elegua, Obatala, Oggun, Chango, Yemaya, Oshun, and Orunmilla)."

There's almost no written text for Orisha worship. REAL ancestral practices are passed down through initiation processes. These processes won't be found on social media — anyone trying to do so is likely a SCAMMER, unless they've been proven otherwise.
Are you seeking spiritual guidance? Make sure your spiritual leader has been vetted by authentic spiritual communities before trusting them with your spirit work — or your finances!
We have a quick favor to ask...
We hope you're enjoying PushBlack Spirit! Spreading the truth about Black spiritual practices and history is just as important to you as it is to us.
And as a small non-profit, we need your support to keep spreading these important stories.
With as little as $5 a month, you will support our tech and writing costs, so we can reach even more people like you. It only takes a minue, so will you please donate now?